Director's Message
Shipmates,
If you're a friend of mine on Facebook, you'll know that I have just returned from sailing as Acting CO aboard NOAA Ship Pisces. Consequently, as I bask in the pride and satisfaction of a "glory days" augmentation assignment and a project well done I don't have much on my mind related to the NOAA Corps right now. As such, this installment of "From the Director's Desk" will be relatively short.
I have to admit, when my staff reminded me that the bi-weekly publishing deadline for the Cyberflash was due and I had yet to submit my content, I panicked a little. I immediately went to thoughts of reshuffling my workload and pushing back on some of my commitments for the day in order to provide some "deep thoughts." I think we can all relate to this situation. We've all been there, and as an organization, our culture is one where neglecting yourself (personally or professionally) in favor of executing the mission is all too common.
Then, I got to thinking "What if I just skip this installment?" And then I started thinking, "Why am I rushing to put something out there and willing to neglect personal commitments to throw some rushed content to the masses?" It was then that it struck me; I'm allowing organization culture to guide my actions. I got caught behind the 8-ball because I was sailing as CO of Pisces. I was sailing as CO of Pisces so I could allow the permanent skipper to attend a wedding. Ironically, as I'm currently working to transition back to my day job as Director, I'm thinking I'll skip a planned gathering for a close friend's wedding in order to develop my Cyberflash content. Or not.
So, to model the way toward changing organizational culture to reflect better work-life balance, prove that the metaphorical ship will sail without me, and take the time to recharge myself by enjoying some time with friends, I'm providing you with one of my favorite pictures from the NERACOOS project conducted by the great ship Pisces from October 4th to 13th. Thanks to my Pisces shipmates for continuing to execute the NOAA mission with pride and dedication. It was an honor and a true pleasure to sail as your CO (again.)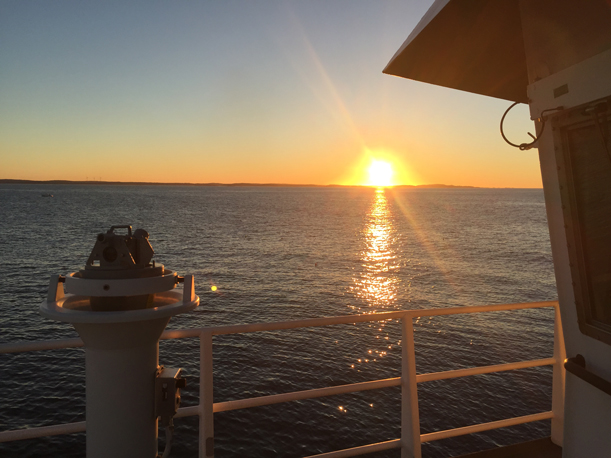 Semper serviens,



CAPT Amilynn E. Adams, NOAA
Director, CPC