Message from the Director
A couple of weeks ago I volunteered for my sons' school's "Teacher Appreciation Lunch." As part of the preparation, I was searching through "teacher quotes" online and came across this: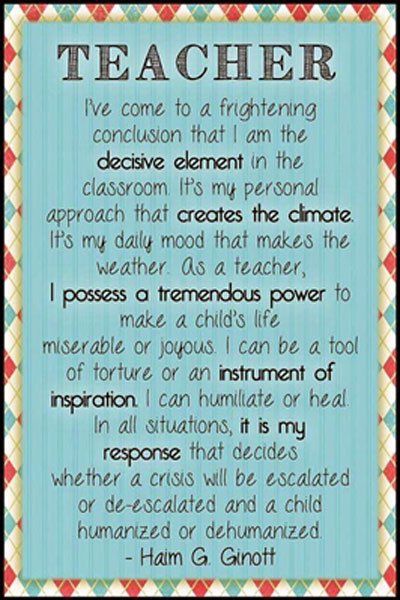 I was struck by the awesome responsibility described and how any occupation, not to mention a family member, could replace "teacher" in this quote and it would still ring true. Parents, leaders, athletes, first responders – we are all a "decisive element" to those we encounter on a daily basis. It is a daunting realization that someone is always watching our behavior and modeling it, learning from it, admiring it or frustrated by it. This does not mean that we can't have bad days. In fact, learning from the adversity faced by others and their response to it, is a valuable lesson as well. Employees need to see their supervisors disappointed; a child needs to see an adult struggle with frustration – in doing so they learn what it takes to be resilient. We all need to accept that it is perfectly okay to make mistakes; it's how you handle the aftermath that matters. Disappointment, frustration and dropped passes are a part of living. We can control very little in life, but remembering that there are people looking up to us makes it a little easier to care about and control the climate we create and how we act every day.
Please note, I wrote most of this before the tragic school shooting which took place on February 14th. Seeing the heroic actions of the teachers during that event only highlights their importance to our world, and our need to support and appreciate all kinds of teachers everywhere.
Be kind to yourself and those entrusted to your care.

CAPT Anne K. Lynch, NOAA
Director, CPC