NOAA Corps Officer Training Center
BOTC 132 has successfully completed the Indoctrination Phase of the program and has moved into Junior Status, where they will continue to focus on mastering the skills of time management, attention to detail, proper wear of the uniform, and reaction to stress.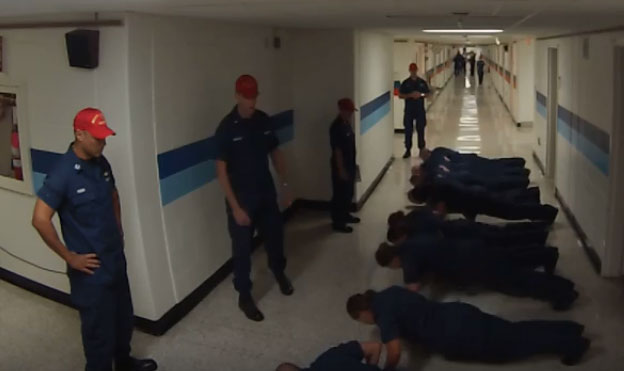 BOTC 132 underway in the Indoctrination Phase of the program. A big shout out to LT Larry Thomas (future XO, NCOTC) for his assistance over the last week. We are looking forward to having you aboard!
The students have begun their rigorous academic program which will cover topics such as Basic Seamanship, Navigation, Shiphandling, and First Aid & CPR, just to name a few. In addition to the classroom environment, they will have opportunities to train at the Rhode Island Fire Academy, "Buttercup" DC Wet Trainer, and Survival Systems USA, as well as aboard various training vessels throughout their time at BOTC. They are looking forward to learning more about the fleet and the missions of each ship and aircraft as they consider their assignment preferences over the coming weeks.
Dates to look forward to include Billet Night on October 11, 2018, and Graduation on November 20, 2018.
DoD Announces Policy Change on Transfer of Post-9/11 GI Bill Benefits
The Defense Department issued a substantive change to its policy on the transfer by servicemembers in the uniformed services of Post-9/11 GI Bill educational benefits to eligible family members.
Effective July 12, 2019, eligibility to transfer benefits will be limited to servicemembers with less than 16 years of active duty or selected reserve service to ensure you will meet the four year service requirement prior to becoming eligible to retire.
Previously, there were no restrictions on when a servicemember could transfer educational benefits to their family members, provided they satisfied a four-year commitment after the transfer. The provision that requires a servicemember to have at least six years of service to apply to transfer benefits remains unchanged in the policy.
If servicemembers fail to fulfill their service obligation as a result of being twice passed over for promotion -- the change will allow them to retain their eligibility to transfer education benefits even if they haven't served the entirety of their obligated service commitment through no fault of their own.
All approvals for transferability of Post-9/11 GI Bill continue to require a four-year commitment in a uniformed service and, more importantly, the member must be eligible to be retained for four years from the date of election.
Please see the link below for additional information:
https://www.defense.gov/News/Article/Article/1573240/dod-announces-policy-change-on-transfer-of-post-911-gi-bill-benefits
Command Advisory Working Group: CO and XO Assignments
A CAWG is scheduled for September 19, 2018, to make recommendations for Commanding Officer and Executive Officer assignments. Any officer within 2 years of rotation could be considered for these ship assignments. CPC is requesting OPF updates specifically for this CAWG be submitted by September 5, 2018. Please ensure your assignment preferences are updated to reflect your latest interest and reach out to ship and Marine Center COs to discuss possible CO and XO assignments. For any questions, please contact LCDR Stephen Kuzirian at assignmentbranch.cpc@noaa.gov or by phone at 301-713-7694.