Message from the Director
Fellow NOAA Corps officers,
This past Monday I had the honor of swearing in BOTC 135 in New London, CT. The opportunity to deliver the oath of office to the future of the NOAA Corps is one of the best privileges of the CPC Director job. It was educating and inspiring to get acquainted with the newest members of our Service and discover how they learned about and what motivated them to join the NOAA Corps. The NOAA Corps recruiting force (at CPC and in the field), CPC staff, and selection board members all contribute a tremendous amount of work to find quality officers and execute their accession to service. The ability to bring onboard the best and brightest is only accomplished through this organizational commitment. Thank you all.
Congratulations to the following men and women on their commission:
| | |
| --- | --- |
| Alice B. Beittel | San Leandro, CA |
| Matthew J. Chonka | San Marcos, TX |
| Tyler J. Houck | Berlin, NJ |
| Abby W. Letts | Pasadena, CA |
| Alexander Linares | Cabo Rojo, Puerto Rico |
| Luke E. McConville | Glen Mills, PA |
| Mark J. Meadows | Virginia Beach, VA |
| Luke T.C. Petzy | Methuen, MA |
| Jesse A. Pierce | Broadway, VA |
| Christine R. Sealing | Annapolis, MD |
| Jessica S. Spruill | Douglasville, GA |
| Karl D. Wagner | Middleport, NY |
| Kelly M. Wooten | Leavenworth, KS |
| Anthony J. Zoller | Napa, CA |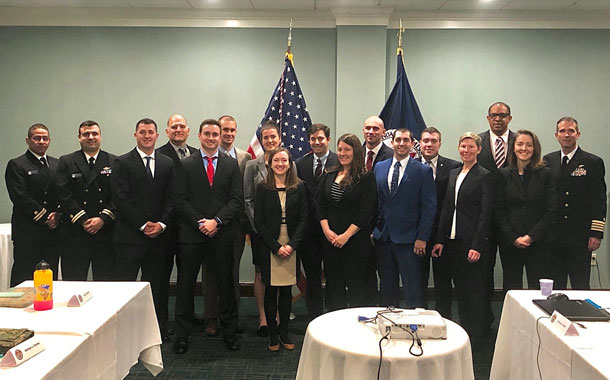 CAPT Devin Brakob, NOAA
Director, Commissioned Personnel Center