Message from the Director
NOAA Corps Community -
Happy Thanksgiving week! This year I am especially thankful for the hardworking women and men that make the NOAA Corps thrive. Some of us are out operating platforms, standing the watch during maintenance periods, or running remote field stations, and others are diligently supporting our operational teams. Regardless of your role, THANK YOU FOR YOUR SERVICE!
A few of my favorite memories in the NOAA Corps stem from the creative ways we chose to ride out the holidays together during mission deployments. To soften the hardship of being away from our homes or loved ones, I was always grateful to see folks organize morale events and go out of their way for their co-workers. Here is a picture of the delicious Thanksgiving spread the hard-working Reuben Lasker Steward Department prepared in 2018.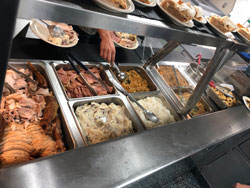 I wish my photography skills were better as this picture fails to fully capture the whole story. When I see this picture and I reflect on that day at sea, however, it reminds me of how we decided to show up and invest in our unit. The Stewards served a great meal, a few folks helped decorate the mess, and I think we even moved up the mealtime slightly (with CBU consent!) so it coincided with kick-off. And we did this while continuing to collect critical environmental information for the Nation.
How we show up for our teams and invest in our units (at work and at home) is incredibly important. Between meeting the needs of the Service and following COVID-19 protocols, this year's holiday plans will no doubt be like everything else in 2020 - a little different. I encourage you to continue to be a leader in your unit and in your local communities as we remain vigilant through the pandemic. Leaders have never been in greater demand.
Keep up the great work, be safe, and I look forward to connecting with you.
Warm Regards,


CAPT Chad Cary, NOAA
Director, Commissioned Personnel Center