Message from the Director
NOAA Corps Community -
As I assume the conn as Director, CPC this week I am filled with tremendous pride and enthusiasm to pursue new opportunities. The Commissioned Personnel Center plays a vital leadership and support role in our organization and to have a chance to serve you in this capacity is truly humbling.
First, however, I want to thank CAPT Devin R. Brakob for his service to the Nation, his professionalism and dedication as Director, CPC these past few years. Notable accomplishments under CAPT Brakob's watch are key CPC hires, implementation of the Integrated Disability Evaluation System, substantial NOAA Corps Directive updates, a framework for a National effort to better support our families with school age children, initiation of a draft Diversity and Inclusion Recruiting Strategy, all while continuing business processes moving forward during a global pandemic. Further, he fully invested in the CPC culture and fostered a workplace that I have found to be collaborative, welcoming and poised for dealing with both the challenges of today and those on the horizon. If you have experience interacting with CAPT Brakob you know that he doesn't seek credit, attention or accolades. A true public servant, CAPT Brakob rolls up his sleeves and works through issues legally, efficiently and in the best interest of the officer and the organization - which is no small task! I am grateful to follow such a kind and talented leader and ask that you join me in congratulating CAPT Devin R. Brakob and wishing him well as he retires after 31 years in uniform.
As I begin this new assignment, my first priority is building relationships with the CPC staff and learning the Center's critical business processes. I will also be engaging with the OMAO Leadership Team, our leaders in the field and Line Offices, and other key customers and partners in our organization. These conversations will expand my perspective on the challenges and opportunities before CPC and our service.
It is also important to me to connect with the broader NOAA Corps community where a two-way dialogue is possible. I have some ideas on how to accomplish this safely and hope to have more to share on this front shortly. Through these interactions, guidance from the OMAO 2021-2025 Strategic Plan, draft NOAA Corps diversity and inclusion recruitment strategy, staying within legal/policy boundaries, and my command philosophy , we will work to evolve the vision and future objectives for the Commissioned Personnel Center. I look forward to sharing our progress.
In the meantime, the CPC team will continue to promote and support a healthy NOAA Corps where operational milestones are pursued. Speaking of operational milestones - leaders in the NOAA Corps have been completing outstanding accomplishments out in the field despite the pandemic hardships. I would like to take a moment to highlight a few of those successes: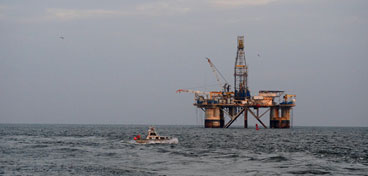 NOAA SHIP Thomas Jefferson Launch 2904 surveying the Bar Channel, Calcasieu, Louisiana Approach, 10-13-2020. Note that the platform is blocking the channel and the buoy has been moved to the west of it's intended station by the effect of the hurricane.
Photo credit: Acting Chief Survey Technician Doug Wood
Operating platforms during the COVID-19 Pandemic has been far from easy. On September 30, 2020 NOAA Deputy Under Secretary for Operations, Mr. Benjamin Friedman, sent out a message highlighting NOAA Ship Thomas Jefferson's accomplishment of being the first ship out to operate under the new COVID-19 protocols in 2020. In addition to overcoming all the obstacles to be the first ship out, under the leadership of CDR Briana Hillstrom the team paved the path for implementation of the health protocols and widely shared a thorough lessons-learned document for the rest of the fleet to build from. CDR Hillstrom's leadership has been exemplary during this difficult period. Great job, CDR Hillstrom and Team TJ!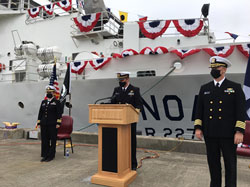 NOAA Ship Bell M. Shimada Change of Command on Friday, October 2 at Marine Operations Center - Pacific. From left to right CDR Amanda L. Goeller, LCDR Jesse Milton, CAPT Arthur "Jesse" Stark, Jr.
Photo Credit: Tammy Johnson Stark.
CAPT Arthur "Jesse" Stark, Jr. has just completed his second and very successful CO tour aboard NOAA Ship Bell M. Shimada. What is special about CAPT Stark's tour is how, in addition to leading his ship to a high level of performance, he always made time to mentor and coach so many COs in our fleet. I know I called CAPT Stark on numerous occasions and it was often the case that he was between coaching sessions assisting ship COs safely transit river bars, prepare for strategic conversations with partners, and successfully plan high risk scientific operations. Congratulations, CAPT Stark and best of luck CDR Goeller!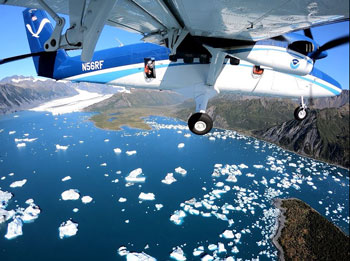 N56RF Alaska Deployment During COVID-19.
Photo credit: NOAA AOC.
Kudos to the entire Aircraft Operations Center for the successful completion of a six week Alaska deployment (August - October) in support of the National Marine Fisheries Service and the Office of Atmospheric Research. The success of the project was the culmination of an entire team effort to plan, prepare, execute, and repeat the processes and procedures developed to mitigate the impacts of the pandemic to our workforce, our communities, and our mission. Together the team completed the following:
over 150 mishap-free flight hours
over 11,000 combined transit and mission miles flown
4 complete aircraft configuration changes (2 of which were on deployment, in Alaska)
4 Canadian border crossings
2 literal cross-country transits (Florida to Alaska and back)
6 weeks of continued viral mitigation and testing for the AOC and missions science crews
0 COVID infections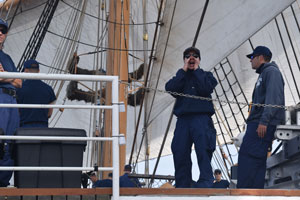 Officer Candidate Allegra Menniti, the Officer Candidate Company Commander, commands each mast to set and douse sails.
Photo credit: LT Michael J. Ball.
BOTC 136 just completed a very productive voyage on USCGC Eagle from September 24 - October 1. ENS Allegra Menniti was selected to be the company commander for the cruise which is the highest leadership position within the company and can be thought of as the CO of the student body. The team aboard USCGC Eagle traveled 863 nm, conducted 1 tack and 1 wear and endured winds greater than 50 kts. Congratulations ENS Menniti and BOTC 136!
It would be my privilege to continue to share highlights and success stories from our leaders across the organization at all ranks. If you have a great story to tell please email me a blurb and a picture (with credit and consent) to director.cpc@noaa.gov.
Keep up the great work, be safe, and I look forward to connecting with you.
Warm Regards,


CAPT Chad Cary, NOAA
Director, Commissioned Personnel Center